Highpower International Inc. was founded in 2001 as an integrated clean energy supplier dedicated to R&D, manufacture and sales of Ni-MH and Li-ion rechargeable batteries, as well as energy storage systems and used battery recycling.
In June 2008, Highpower listed in NASDAQ, USA, and completed the privatization in October 2019. With quality products and attentive service, internationalization in capital, global market and professional management, Highpower has been recognized by many international top brands as one of their major suppliers.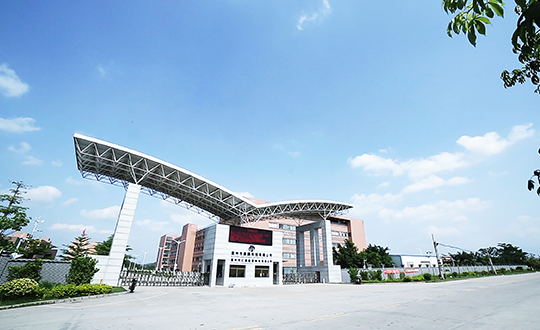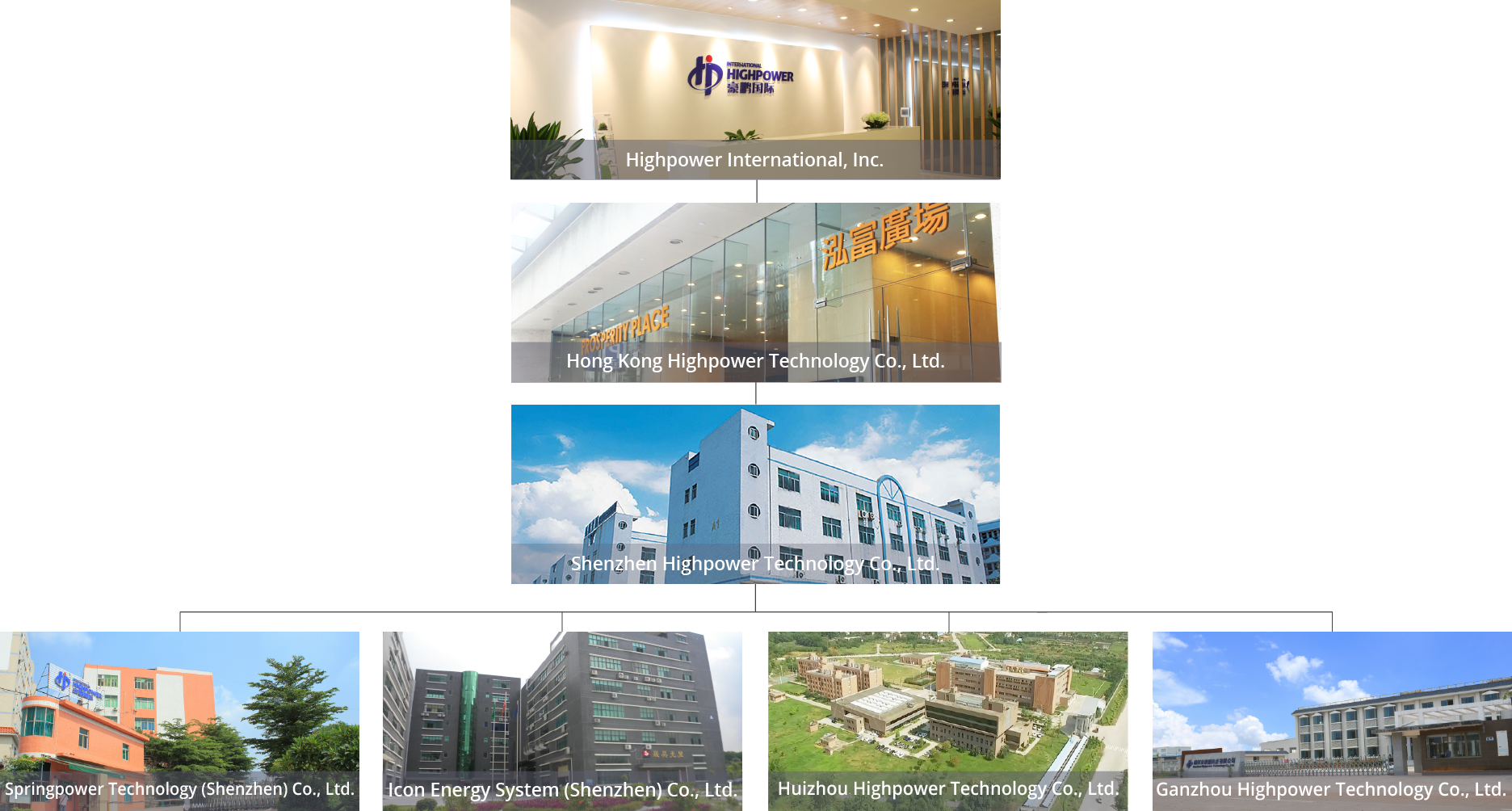 Quality Policy
Quality Management, Customer-Oriented, Strive for Better, Improve Constantly
Environment Policy
Observing Law and Discipline, Pollution Prevention, Energy Efficiency and Waste Reduction, Improve Constantly
HSF Policy
Green Manufacturing, Satisfy Customers, Observing Law and Discipline, Improve Constantly
Social Responsibility Policy
Observing Law and Discipline, Ensure the Rights of Employees, Build a Harmonious Company
Business Ethics Policy
New Development Way Based on Regulations, Zero Tolerance Fosters a Perfect Team
Vision
Provide world-class clean energy solutions to power the future.
Mission
To solve global customer challenges and pressures;
Respond rapidly to customer demand;
Provide safe products and quality service.
Core Values
Delight customers;
Collaborate as a team;
Dedication to details;
Always improve.
2018
Foundation ceremony of Energy Storage Builing of Highpower International.
2017
Test Center of Huizhou Highpower Technology Co., Ltd. was acquired laboratory accreditation certification ISO/IEC 17025: 2005 by CNAS.
2016
Highpower entered into an equity purchase agreement with Huizhou Yipeng Energy Technology Co., Ltd..
Huizhou Highpower Technology Co., Ltd. has been certified ISO/TS 16949: 2009, for designing and manufacturing of lithium-ion traction secondary cells for electric vehicle.
Springpower Technology (Shenzhen) Co., Ltd. was acquired "Quality Improvement Award".
Springpower Technology (Shenzhen) Co., Ltd. was honored "2015 Science and Technology Innovation Award in Longhua New District".
Highpower International(NASDAQ: HPJ)was awarded as "the Most Valuable Investment Listed company on Li-ion Battery".
2015
All of Highpower's subsidiaries received the certification of "High and New Technology Enterprise".
Huizhou Highpower Technology Co., Ltd.'s project of industrial construction on Li-ion battery was rated as "Top 50 Key Cultivating Projects of Modern Industry in Huicheng District".
Highpower International was authorized invention patents on battery safety technology by USPTO. (Patent No. :US

13/673634

) 
Highpower was honored as "AA Customer of China Export & Credit Insurance Corporation in 2015".
Shenzhen Highpower Technology Co., Ltd. was awarded "the Backbone Enterprise of quality City in Shenzhen" status and certification.
2014
Huizhou Highpower Technology Co., Ltd. acquired Samsung's supplier audit approval, entering into Samsung's supply chain.
Huizhou Highpower Technology Co., Ltd. and Springpower Technology Co., Ltd qualified as Sony's green partner.
Ganzhou Highpower Technology Co., Ltd. and Icon Energy System Co., Ltd. were awarded National High-Tech Enterprise status and certification.
Highpower's HEV/PHEV Lithium-ion Power Battery successfully received product approval from China's National Quality Control & Inspection Center for Business, marking Highpower entering into the market of lithium-ion batteries for electrical vehicles on a large scale.
Ganzhou Highpower Technology Co., Ltd. industrial park went into operation.
2013
Highpower qualified as a committee member of American STP1642 UL Security Laboratory Standards Technical Committee (the only qualified battery company in China including Taiwan).
Highpower's trademark "HFR" won the Famous Trademark Certificate of Guangdong Province.
Highpower wins and award from "Guangdong Informatization and Industrialization Fusion---Four 100 Demonstration Project".
Highpower was identified as an AAA standard enterprise in Shenzhen city.
Springpower Technology (Shenzhen) Co., Ltd. was identified to be one of the First National New High-tech Enterprises in Shenzhen in 2013.
Highpower wins the highest quality award in the public service field set up by Longgang People's Government---District Quality Award.
Highpower wins the Annual Scientific and Technological Invention Award in the Longgang District of Shenzhen for 2011-2012.
Highpower provides power supply solutions for the Racing Team of Harbin Institute of Technology (HIT) in the Formula Student China 2013 (FSC).
The industrial park of Ganzhou Highpower Technology Co., Ltd. was completed.
The industrial park of Huizhou Highpower Technology Co., Ltd. was formally put into production.
2012
Highpower purchases land rights in Ganzhou City, Jiangxi Province for a full-scale battery and electronic waste recycling business.
Completed build-out of Huizhou, Guangdong Province factory.
2011
A groundbreaking ceremony is held for Ganzhou Highpower Technology Co., Ltd.
Highpower Co., Ltd. is assessed as an A-grade credit rating corporation by Shenzhen Joint Credit Management.
A strong Hong Kong office is established.
2010
Icon Energy System (Shenzhen) Co., Ltd. established.
Highpower signs investment letter of intent with Zhanggong District Government to build the first domestic clean energy production and research facility.
Highpower research and development institute established.
Symposium for clean energy attended by Hong Lihe, Vice Governor of Jiangxi Province, Jiangxi Province government leaders of the Provincial Department of Commerce, the Provincial State-owned Assets Supervision and Administration Commission (SASAC) and the Provincial Industry and Information Committee.
Battery industry expert Wang Jisan appointed as Honorary President of Highpower Research and Development Institute.
Ganzhou Highpower Technology Co., Ltd. incorporated.
Research and Development Center partnership established with German-based Freudenberg to form Freudenberg (Chinese) Testing Center.
Highpower wins the "Cleaner Production Enterprises in Shenzhen City" award.
Highpower Sunshine Scholarship Foundation established.
Highpower is identified as the "Hong Kong-Guangdong Cleaner Production Partners (manufacturing)" by the Hong Kong Government's Environment Bureau and Guangdong Province's Economic and Information Technology Commission. Highpower is the only enterprise to receive the award in the China battery industry.
2009
Groundbreaking ceremony held at Highpower Huizhou Industrial Park.
Highpower selected as the first batch of "Guangdong, Hong Kong and Macau RMB cross-border trade settlement pilot units".
Highpower USA office established.
2008
Production commences at B2 factory in Shenzhen. Initial production capacity reaches 750,000 Ni-MH battery pieces per day.
Highpower receives AQSIQ "Green Passage Enterprises" qualification.
Highpower begins trading on the Nasdaq Stock Market under the symbol "HPJ".
Patented product "NI-MH batteries that can be stored for a long-term" acquired.
Highpower identified as a "state-level high-tech enterprise" by Shenzhen City's Science and Technology Bureau, Bureau of Finance, State Taxation Bureau and Local City Taxation Bureau.
2007
Springpower Technology (Shenzhen) Co., Ltd. founded.
Highpower acquires United States-based company SRKP.
2006
C factory area increases Ni-MH battery production capacity to 600,000 pieces per day.
Highpower Ni-MH Battery research and development center established.
Highpower's B1 branch factory commences battery production.
Highpower establishes post-doctoral research and development base at Central South University.
Highpower honored as an "Advanced Battery Materials Engineering Research Center" by the Ministry of Education.
Industrial wastewater treatment system opened for life sewage recycling.
2005
Highpower obtains first authorized patent.
Highpower becomes Ni-MH rechargeable battery supplier for a globally recognized battery brand.
2004
Highpower obtains "HFR", "Highpower" trademark.
Highpower receives OVONIC patent license.
Highpower nickel-metal hydride products receive recognition by SGS as environmentally friendly.
Shenzhen Municipal Science, Technology and Information Bureau identifies Highpower as a "Shenzhen High-Tech Enterprise".
2003
Highpower receives CE Certification.
2002
Highpower moves headquarters from Guangzhou City to Luoshan Industrial Zone, Pinghu Town, Shenzhen City.
Highpower receives ISO9001:2000 certification.
2001
Highpower Technology Co., Ltd. established in Guangzhou City, China.

About Us