Highpower to Attend 2013 Consumer Electronics Brazil Expo in SãoPaulo, Brazil

San Francisco, USA& São Paulo, Brazil – August 26, 2013 – Highpower International, Inc. (Nasdaq: HPJ), a developer, manufacturer and marketer of nickel-metal hydride (Ni-MH) and lithium rechargeable batteries and battery solutions, today announced that it will attend the Consumer Electronics Brazil Expo ("CEB") and Photo Image Brazil Expo ("PIB"), which will take place at the Expo Center Norte, São Paulo, Brazil, from August 28th to August 30th.

"In addition to featuring our existing product lines, we look forward to showcasing our rechargeable battery solutions in the 2013 Consumer Electronics Brazil Expo ("CEB") & Photo Image Brazil Expo ("PIB")." said Mr. George Pan, Chief Executive Officer at Highpower International. "Brazil, one of Bric countries, is an important emerging international market, and is the model of Green Energy development. To attend the Expo provides a chance for Highpower to learn the demand of rechargeable battery solutions in South American market. We would like to extend invitations to our valued customers, suppliers, business partners, and potential customers to visit the Highpower booth and speak to members of our marketing, sales, and research teams."

CEB&PIB Event Details:
Exhibit Dates: August 28-30, 2013
Location: Expo Center Norte, São Paulo, Brazil
Highpower Booth Number: D94&D94a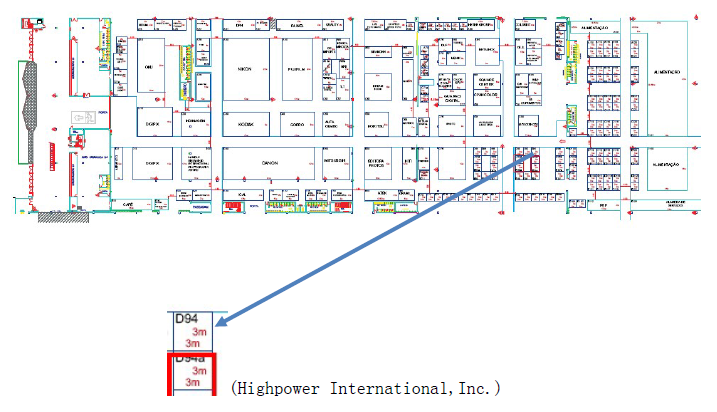 About 2013 CEB & PIB
It is the first time that Consumer Electronics Brazil Expo and Photo Image Brazil Expo are merged as Consumer Electronic & Photo Image Brazil Expo by organizer this year. The Expo provides a rare trade platform for export-oriented consumer electronics enterprises to develop South American market, under the present financial environment and Euramerican market saturation. In 2012, with 240 exhibitors and 360 brands, these two Expo attracted 32,870 buyers, and brought approximately 8 million Brazilian Real of transaction.
About Highpower International, Inc.
Highpower International was founded in 2001 and produces Nickel-Metal Hydride (Ni-MH) and lithium-based rechargeable batteries. With over 3,000 employees and prominent international customers, Highpower is committed to expanding its market through continuous research and development as well as increased vertical integration efforts. Highpower International is committed to clean technology, not only in the products it makes, but also in the processes used to make them. The majority of Highpower International's products are distributed worldwide to markets in the United States, Europe, China and Southeast Asia.
Forward Looking Statements
This press release contains "forward-looking statements" within the meaning of the "safe-harbor" provisions of the Private Securities Litigation Reform Act of 1995 that are not historical facts. These statements can be identified by the use of forward-looking terminology such as "believe," "expect," "may," "will," "should," "project," "plan," "seek," "intend," or "anticipate" or the negative thereof or comparable terminology, and include discussions of strategy, and statements about industry trends and the Company's future performance, operations and products. Such statements involve known and unknown risks, uncertainties and other factors that could cause the Company's actual results to differ materially from the results expressed or implied by such statements. For a discussion of these and other risks and uncertainties see "Risk Factors" and "Management's Discussion and Analysis of Financial Condition and Results of Operations" in the Company's public filings with the SEC. Although the Company believes that the expectations reflected in such forward-looking statements are reasonable, there can be no assurance that such expectations will prove to be correct. The Company has no obligation to update the forward-looking information contained in this press release.
Financial Profiles, Inc.
Tricia Ross
+1-916-939-7285