Highpower International to Attend CES 2018

Highpower International, Inc. (NASDAQ: HPJ), a developer, manufacturer, and marketer of lithium ion and nickel-metal hydride (Ni-MH) rechargeable batteries, battery management systems, and a provider of battery recycling, will attend the 2018 International Consumer Electronics Show (CES) in Las Vegas on January 9-12, 2018, to showcase its advanced rechargeable battery products for notebook, smart phone, wearable devices, smart house, other digital products and portable power station and high drain products for PHEV buses etc.
Mr. George Pan, Chairman and Chief Executive Officer at Highpower International commented "As we enter in 2018, our rechargeable battery business will continue to benefit from the strong growth trends for smart and mobile devices, energy storage system and EV. We are well positioned to capture additional market share with strong competitiveness in international market and mature experience of operating our advanced automatic production line. We would like to extend invitations to our valued customers, suppliers, business partners, and investors to visit the Highpower booth and speak to our management, sales and marketing, and R&D teams during CES."
CES Event Details:
Exhibit Dates: January 9 - 12th,2018
Location: Las Vegas Convention Center
Highpower Booth No: LVCC, South Hall 4 - 36153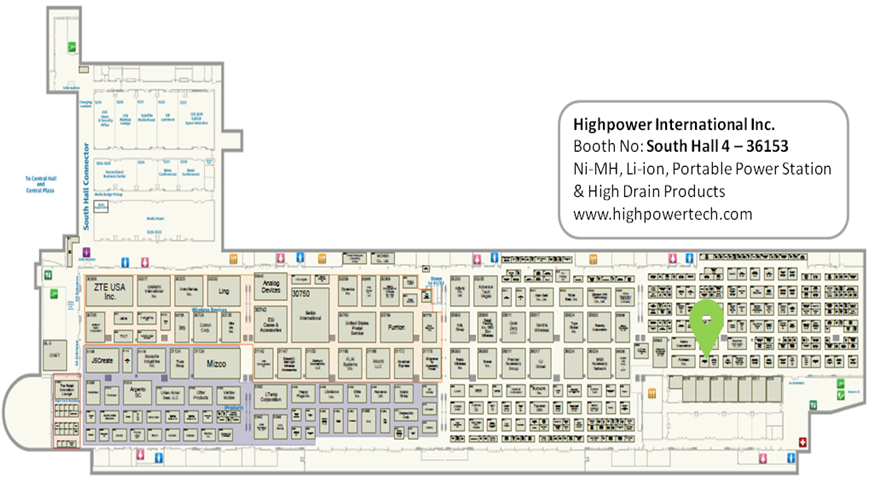 About CES 2018:
CES is owned and produced by the Consumer Technology Association (CTA)™ — the technology trade association representing the $292 billion U.S. consumer technology industry. CES has been held for 50 years since 1957 in every January in Las Vegas, Nevada. CES is the world's gathering place for all who thrive on the business of consumer technologies. As the largest hands-on event of its kind, CES features all aspects of the industry including: bluetooth products, earphones, speakers, E-books, lightings instruments, telecommunications products and equipments, vehicle technology and other various breakthrough technologies and products. CES 2017 showcased 4,015 exhibiting companies, and more than 109,498 attendees, 7000 media from 150 countries.