Highpower International to Attend Battery Japan 2019

Highpower International, Inc. (NASDAQ: HPJ), a developer, manufacturer, and marketer of lithium ion and nickel-metal hydride (Ni-MH) rechargeable batteries, battery management systems, and a provider of battery recycling, will attend the 2019 International Rechargeable Battery Expo (BATTERY JAPAN 2019) in Tokyo from February 27th to March 1st, 2019, to showcase its latest rechargeable battery products and system solutions for high-end consumer products, industrial applications and power storage products, etc.
Event Details
Exhibit Dates: February 27th to March 1st, 2019
Location: Tokyo Big Sight Exhibition Centre, Japan
Highpower Booth No: W2-62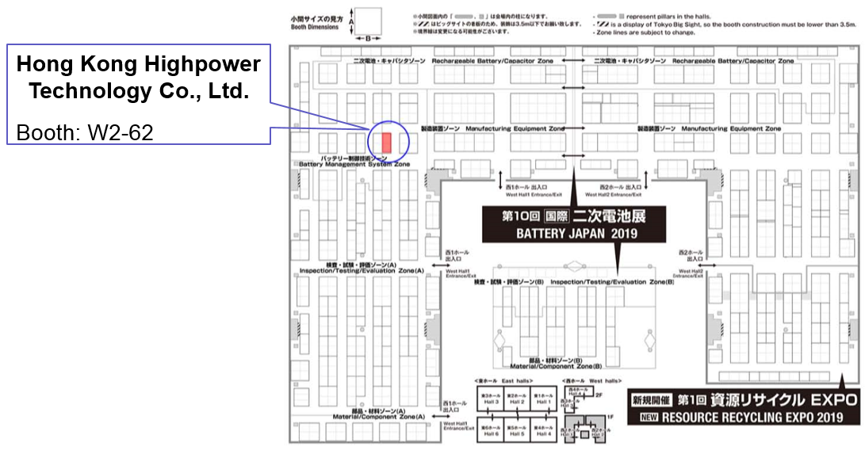 With the rapid development of urbanization and the increase in household disposable income, the high-end consumer electronics market has grown rapidly. According to the report of Markets and Markets, the overall smart home market will be worth USD 151.4 billion by 2024. The global market for T-BOX, a potential application area for Ni-MH batteries, is expected to reach USD 3.8 billion by 2020, according to the report of Research and Markets.
With many years of experience in the research, design and manufacture of batteries and solutions in the field of high-end consumer electronics, Highpower is managing to gain more shares in relative fast-growing downstream industries, such as smart homes and automotive electronic products, by cooperating with many international brands.
Highpower would like to extend invitations to valued customers, suppliers, business partners, and investors to visit the booth and speak to the management, sales and marketing, and R&D teams during BATTERY JAPAN 2019.
About International Rechargeable Battery Expo
BATTERY JAPAN is the world's leading international exhibition of rechargeable batteries, displaying various components, materials, equipment, and finished rechargeable batteries for the development and manufacture of rechargeable batteries. It is held twice a year in Tokyo (in February) and Osaka (in September). The International Rechargeable Battery Expo (BATTERY JAPAN), International Photovoltaic Power Generation Expo (PV EXPO), International Photovoltaic Power Generation System Expo (PV SYSTEM EXPO), International Smart Grid Expo (SMART GRID EXPO), International Wind Energy Expo (WIND EXPO), International Biomass Expo (BIOMASS EXPO) and Next-generation Thermal Power Generation Expo (THERMAL POWER EXPO) are held at the same period, collectively known as World Smart Energy Week. In 2018, Japan's World Smart Energy Week gathered a total of 1,383 exhibitors from 33 countries, attracting 64,399 professional buyers.