Highpower awarded "2009 Shenzhen independent innovation products certificate"

After our company's RTU battery awarded "2008 Shenzhen independent innovation products certificate", this April, Highpower's High capacity Ni-MH battery (Patent: One kind of cathode slice and the manufacturing methods to make this slice to Nickel Metal Hydrogen battery; Patent Number: ZL 2006 1 0063126.9) got the award again as the symbolic products of independent innovation capability and level in China.
The access to the certified product models contain 50AAJ2100、50AAJ2200, 50AAJ2300, 50AAJ2400, 50AAJ2500, 44AAAJ800, 44AAAJ850、44AAAJ900, 44AAAJ950, 44AAAJ1000; all these are the representative and advanced products in High capacity Ni-MH battery area.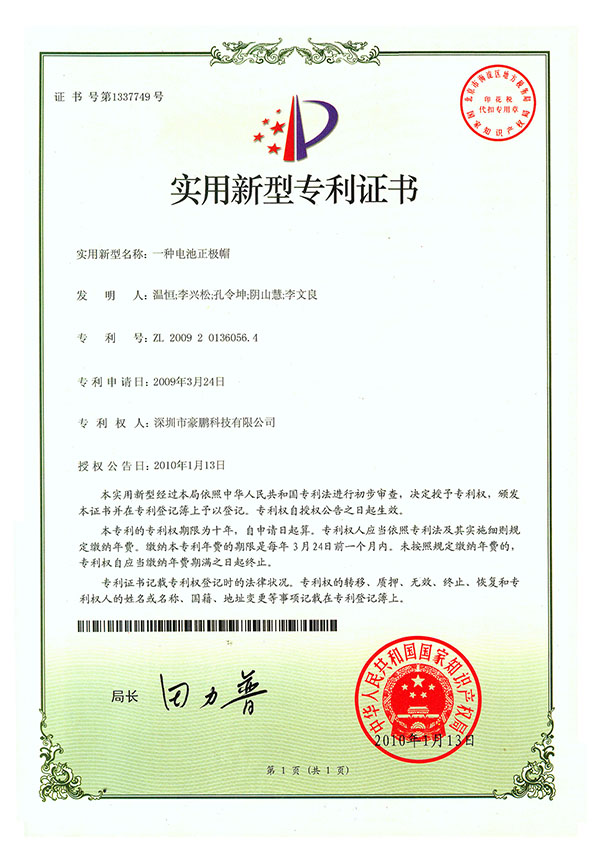 These series products overcome the defect of conventional battery in manufacturing process and low cycle life. It has the characteristics of the small internal resistance, long cycle life and high charge retention. Each performance of these series batteries conforms to the IEC standard and the safety performance conforms to the UL standard which reaches to the advanced level in both home and abroad. Besides, it has great advantage in cost. In the high-end market of Ni-MH battery, our high capacity batteries could replace Japan's high-quality battery and widely use in consumer area.
Apart from awarded Shenzhen independent innovation products certificate, these products have tied to the Shenzhen government priority procurement list. At the same time, our batteries were recognized as the priority supporting objects in promoting science and technology achievements and related industrialization policies.