Highpower Technology officially became an "AEO Advanced Certified Enterprise"

On January 19, 2021, Shenzhen Highpower Technology Co., Ltd. obtained the "AEO Certificate" issued by Shenzhen Customs, and officially became an "AEO Advanced Certified Enterprise".
The AEO (Authorized Economic Operator) system is a management system introduced by the World Customs Organization (WCO) in order to achieve the goals of the "Global Trade Security and Convenience Standard Framework", build partnerships between Customs and the business community, and achieve the goals of trade security and convenience.
According to the company's credit status, the Customs divides import and export companies into four levels. AEO Advanced Certified Enterprise is the highest level of customs management companies and also the highest level of corporate integrity. As of October 2020, AEO advanced certified enterprises only account for 0.20% of the total number of enterprises in the Shenzhen Customs Area. Enterprises applying for certification must strictly follow the certification standard items and review them item by item, such as organizational control, import and export business control, etc. Especially in terms of regulating workplace safety, developing information systems and business partner safety, there are strict requirements and high standards for certified companies.
AEO advanced certification is the gold-lettered signboard of Chinese import and export enterprises, and also a symbol of corporate's excellent credit, enormous potentiality and standardized management. Therefore, 40 departments including the National Development and Reform Commission, the People's Bank of China, the General Administration of Customs of the People's Republic of China, the Ministry of Industry and Information Technology, and the Ministry of Finance have formulated a series of joint incentive measures for the enterprise with AEO advanced certificate. For example, AEO advanced certified enterprise can apply a lower inspection rate of imported and exported goods, and have the convenience of better customs clearance facilitation measures provided by Customs in 33 countries or regions under mutual recognition of the AEO. In addition, when bidding for government-invested projects, if the tenderee needs the bidder to submit import and export certificates, relevant procedures can be simplified. In terms of financing, advanced certified enterprise can be used as significant reference conditions for banks and other financial institutions to grant credit and financing loans. When the Ministry of Finance implements fiscal fund project arrangements, priority will be given to advanced certified enterprises under the same conditions.
The achievement of "AEO certificate" is a recognition of Shenzhen Highpower's corporate credit and standardized management, and also affirmation of Highpower Group's strict business management and integrity management. It has laid a solid foundation for the company to establish a brand image, further explore the international market, better serve global customers, and enhance international competitiveness.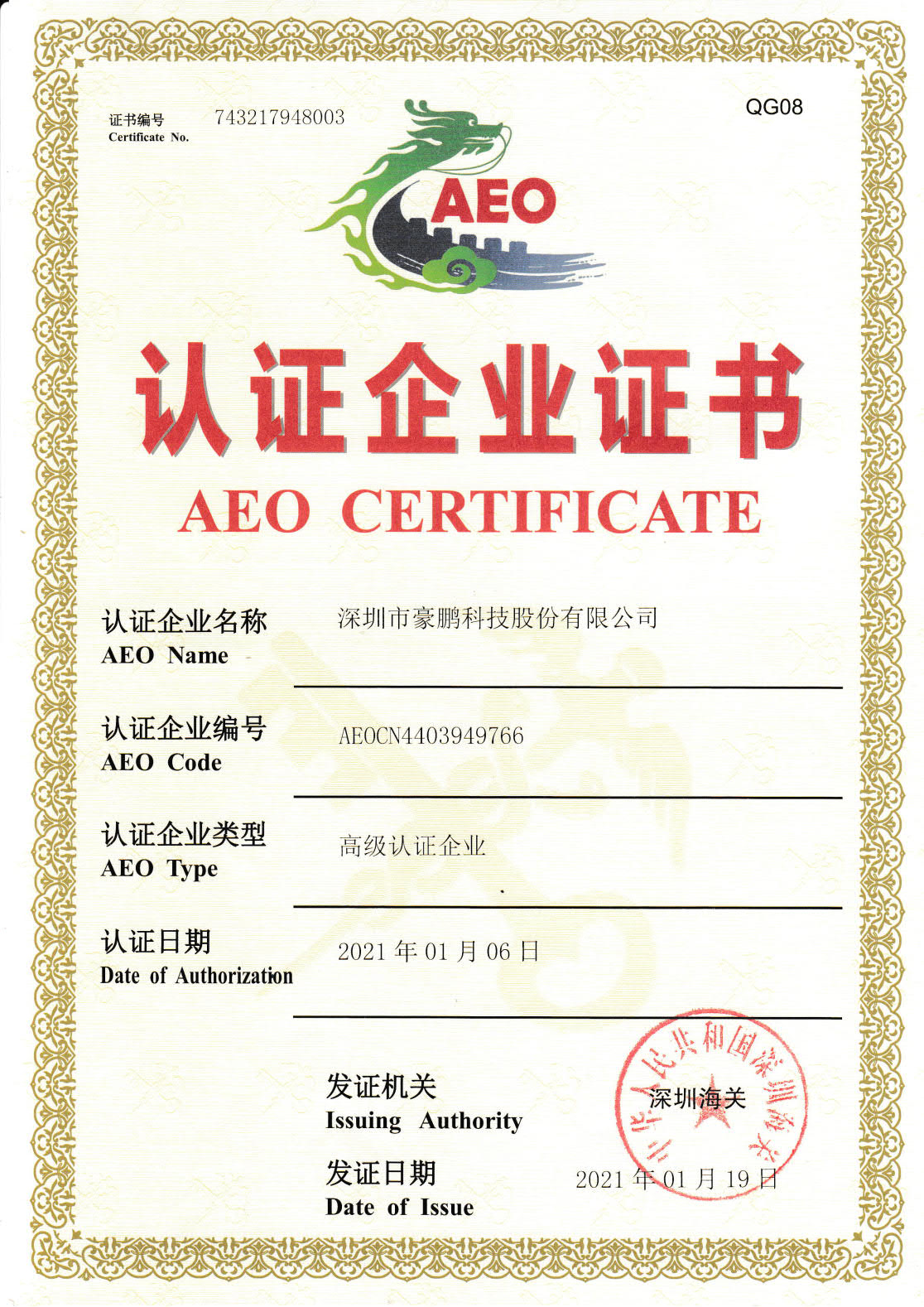 Shenzhen Highpower's "AEO Certificate"

Shenzhen Highpower Technology Co., Ltd. was founded in 2002 as an integrated clean energy supplier dedicated to R&D, manufacture and sales of Ni-MH and Li-ion rechargeable batteries, as well as energy storage systems and battery recycling. The company has 5 manufacturing bases and has set up multiple offices around the world. At present, it has become a national high-tech enterprise with the world's leading technology level, and has established long-term and stable cooperative relations with many Fortune 500 companies. The high-quality Ni-MH and Li-ion rechargeable batteries independently developed and produced by the company are widely used in consumer, light power, energy storage and backup applications.
In the future, Highpower Technology will adhere to the core values of "delight customers, open-minded and shared success, dedication to details, always improve". With the vision of "Providing world-class clean energy solutions to power the future", Highpower will build its brand with credit management principles, return customers with high-quality products and sincere service, strive to provide first-class clean energy solutions to global customers and create a better life for mankind.