Mr. Pan, CEO of Highpower, was awarded "Person of the Year in China Battery Industry"

From October 27th to 29th, 2020, the annual event of global battery industry-ABEC 2020/ The 8th China (Changsha•Ningxiang) International Summit Forum on Battery New Energy Industry was held in Ningxiang, Changsha. This forum was hosted by the ABEC (World Economic Forum in the battery industry) Organizing Committee, Zhongguancun New Battery Technology Innovation Alliance, and was exclusively co-organized by Ningxiang High-tech Zone. On the morning of October 27th, the award ceremony for the 10th (2020) Person of the Year/Annual Innovation Award/Chief Technology Officer/Chief Brand Officer/Excellent Supplier in China Battery Industry was concurrently held with the ABEC 2020 Forum. Mr. Pan, CEO of Highpower Group, was awarded "The 10th (2020) Person of the Year in China Battery Industry". This is the industry's affirmation for Mr. Pan as the leader and backbone of the battery new energy industry, and it also fully recognizes the outstanding achievements of Highpower Group in the battery new energy industry since its establishment.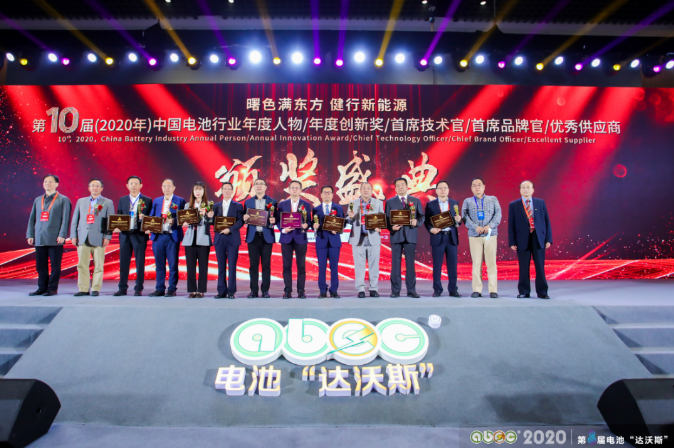 Mr. Pan, CEO of Highpower Group, was awarded "The 10th (2020) Person of the Year in China Battery Industry" (Fifth person from right)
Mr. Pan received a bachelor's degree in metallurgical machinery from Central South University in 1990 and founded Highpower Group in 2002. He was elected as a deputy to the Shenzhen Longgang District People's Congress in 2012 and as a deputy to Shenzhen Municipal People's Congress in 2015. Since the establishment of Highpower Group, Mr. Pan has insisted on cooperating with international business partners and allocating R&D investment based on customer needs. In 2018, Highpower Group achieved the world's largest shipment of small Ni-MH batteries. Currently, more than 80% terminal brand customers of Highpower Group come from overseas regions such as Europe, America, Japan and South Korea. Among them, the shipment of Ni-MH battery accounts for nearly 20% of the global small Ni-MH battery market, and the lithium battery business also maintains an annual growth of more than 30%. In 2019, the group invested more than 100 million RMB in R&D and maintained a continuous growth. In addition, the group, which has two national-level laboratories, not only passed a series of system certifications such as TS16949 and SA8000, but also served as a member of the drafting committee of STP UL1642 and IEEE1725. It has a total of 370 patents, including a number of international ones.
After nearly 20 years of development, under his leadership, Highpower Group has been deeply involved in the field of clean energy, insisting on independent innovation and constantly breaking through technical barriers. At present, it has grown into the industry's leading new energy solution provider integrating Ni-MH rechargeable batteries, lithium-ion rechargeable batteries, power system solutions and waste battery recycling. In the future, Highpower Group will continue to focus on the challenges and pressures concerned by its customers. Meanwhile, the group will deepen its strategic layout, drive the long-term and sustainable development, and create a better life for mankind.