Highppower will attend the 24th China International Bicycle Fair Booth NO.: W5-0025

In the alternating warmth and coldness of early Spring, the 24th China International Bicycle Fair is blowing a technology cyclones in Shanghai New International Expo Centre. Exhibition will be held from 13 April to 16 April and all exhibitors are now intensively preparing for it. As an excellent E-bike battery manufacturer, Highpower International Inc. will take the latest E-bike battery and power systems to the Fair(Booth No.: W5-0025).
This Fair, themed 'Technology innovation and Quality Improvement', has 130, 000 sqm exhibition space with 10 inner exhibition halls and 6500 booths. Highpower International will stay close to the theme by exhibiting self-developed Hypon Battery Pack, Cylindrical Aluminum Battery Pack, Little Frog Battery Pack, Rear Carrier Battery Pack, Inner Battery Pack and other E-bike battery packs and power system products, showing worldwide customers the energy solution ability of Highpower.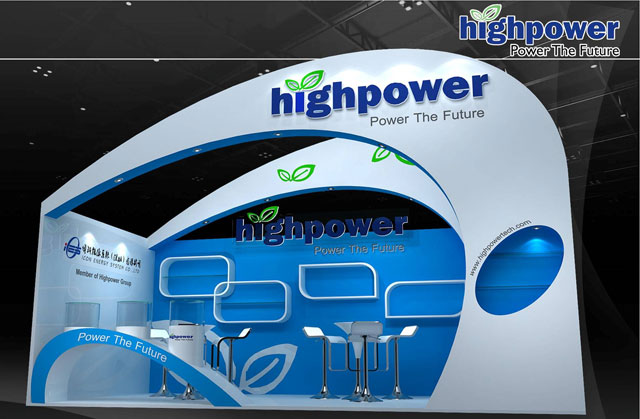 Highpower Booth Design
Nowadays, as the traditional energy resources are depleting, electrical bike are more and more popular because it is convenient, easy to operate, energy-saving, environment friendly and decently priced. In 2013, E-bike ownership in China is 200 billion. As an important part, battery pack has crucial influence on the performance of the E-bike. Battery with large energy, high power, low self-discharge and long cycle life is getting more and more attention in this developing industry. Highpower, as a NASDAQ listed professional battery solution supplier, has subsidiaries such as Icon Energy System (Shenzhen) Co.,Ltd., Huizhou Highpower Technology Co.,Ltd., Springpower Technology (Shenzhen) Co.,Ltd., with which Highpower can realize the independent development, production and design of battery products and supporting solutions, possessing a complete industrial chain of battery cell production, solution design and battery assembly. Highpower E-bike battery and power system products are approved to be of large capacity, high power, good capability at high and low temperature, excellent discharge platform, strong recovery capability after deep discharge and long cycle life. Their performance index ranks top in E-bike battery products, therefore Highpower is designated battery supplier of well-known E-bike manufacturer.
Because of their independent design and excellent performance, the E-bike battery and power system products of Highpower are chosen by sponsor to be displayed in Innovation Hall at the same time. We believe that our batteries will bring a unique technology fashion to the Fair. Warmly welcome people from all walks of life to the Fair!
Brief Introduction: China International Bicycle Fair is sponsored by China Bicycle Association and organized by Shanghai Xiesheng Exhibition Co., Ltd. It is the largest bicycle trade show in world. Every year this fair attracts many well-known brands home and abroad to exhibit their products such as BIANCHI、BH、SPECIALIZED、TREK、BMW、LOOK、GIANT、MERIDA、GH0ST、SHIMANO,SRAM、CANNONDALE、GT、SIGMA、DT SWISS、CAT EYE, etc. There will be thousands of visitors from Korea, Japan, America, Russian, Brazil, Chinese mainland, HONGKON and Taiwan to the Fair.