Highpower Technology obtained IEC 62619 DEKRA Seal and CB certificates

Recently, two rechargeable lithium-ion battery packs used in portable energy storage systems of Icon Energy Systems (Shenzhen) Co., Ltd., a subsidiary of Highpower Technology, have successfully passed the test and audit of DEKRA in accordance with IEC 62619:2017 and obtained DEKRA Seal and CB certificates.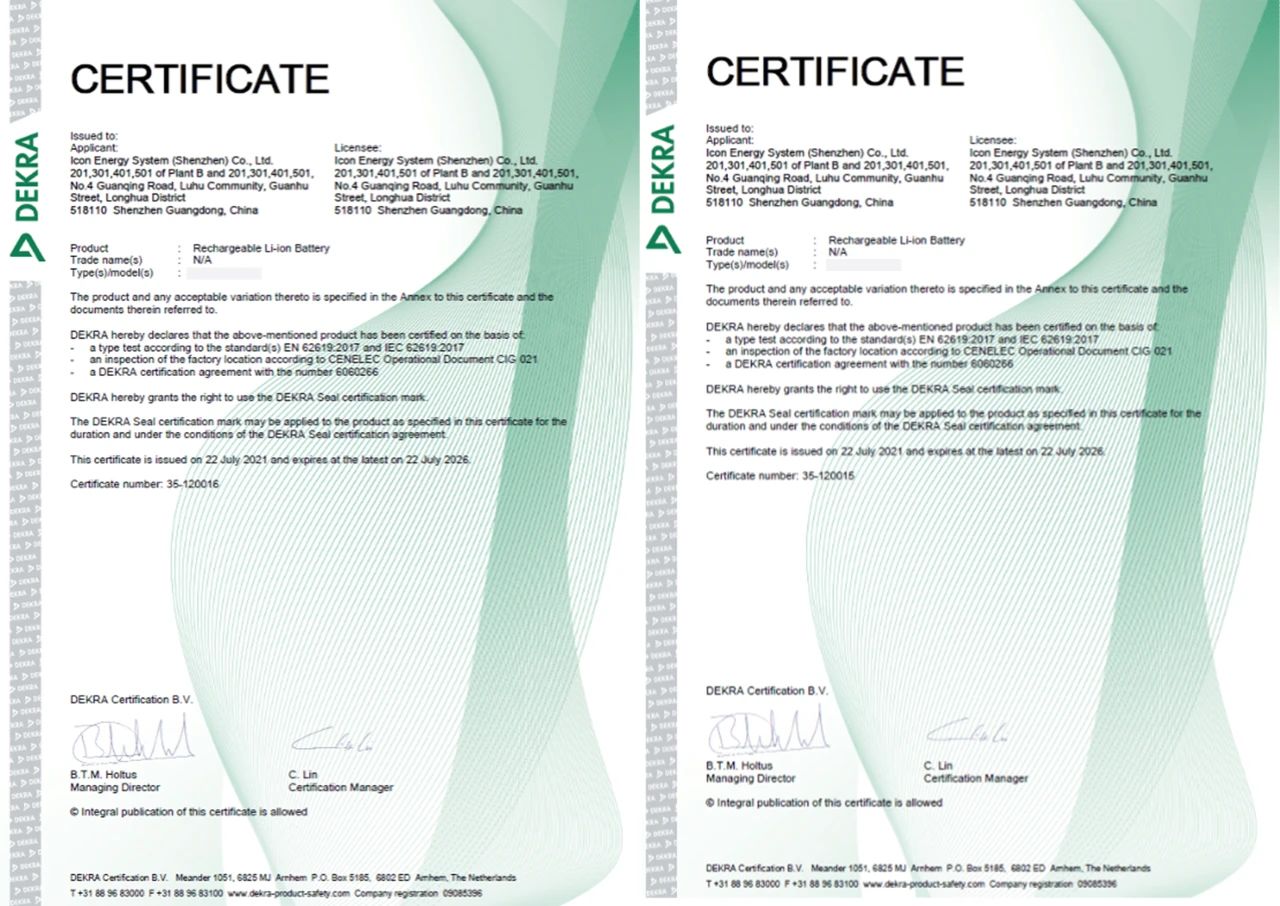 Icon Energy Systems (Shenzhen) Co., Ltd. obtained DEKRA Seal and CB certificates
DEKRA has fully evaluated items such as electrical safety, mechanical safety, and functional safety according to the application scenarios of our certified batteries.
The certified product adopts a single-chip fully integrated solution, which can accurately measure and retain key parameters such as battery voltage, current, and temperature. And by using intelligent charging management technology, the charging efficiency can reach 95%. In addition, the independent design of the product also ensures its excellent heat dissipation performance and safety performance. The successful acquisition of DEKRA Seal and CB certificates shows that our products meet the requirements of a series of international certifications such as safety and quality.
Highpower Technology and DEKRA have been cooperating for ten years. Both parties have witnessed the innovation of lithium-ion battery technology, the iteration and update of battery products, and corresponding regulations and standards. As a typical case of energy storage system, this certification project fully proves the consensus on the core concepts of two parties and the superior safety of the product. In the future, Highpower Technology will continue to work with DEKRA for common development and continue to provide high-quality products and certification services to customers around the world.
About DEKRA
DEKRA, one of the world's leading third-party expert testing and certification organizations, was founded in Berlin, Germany in 1925. With business in more than 60 countries on all 6 continents, the organization is committed to providing qualified and independent expert services for safety on the road, at work and at home. These services range from vehicle inspection and expert appraisals to claims services, industrial and building inspections, safety consultancy, testing and certification of products and systems, as well as training courses and temporary work.